2008 MARTIN ESTATE Reserve Library Cabernet Sauvignon 750ml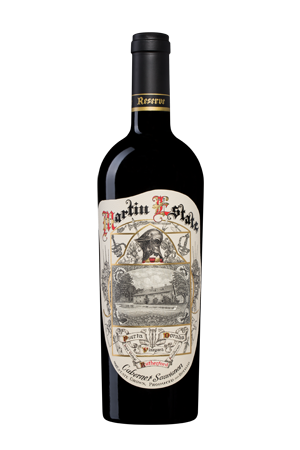 MARTIN ESTATE's 2008 COLLECTOR'S RESERVE from the Château's Library Collection epitomizes its distinctive Rutherford terroir. Six bottle orders ship in a custom wood presentation case.
Crafted exclusively from our Estate Vineyard, this wine delivers an irresistible concentration of flavors, reminiscent of red and black berries, black currant with exquisite hints of cherry and plum. An exceptionally elegant and refined tannin structure defines the experience.
A note from Winemaker Aaron Pott, reflecting on this vintage:
"The 2008 RESERVE is the first wine that I bottled for MARTIN ESTATE inside the amazing 1887 stone Château, with a vineyard that respects and blends with its Rutherford terroir. I knew that we would make beautiful wine, which will be adored not adorned. It is the best of the Old World blended with the best of the New World. Just like the immortal James Brown, this beautifully balanced Cabernet Sauvignon has "Soul."
A single-vineyard Estate wine. Exclusively produced and bottled at the Château. Rutherford, Napa Valley.