2018 CHÂTEAU NAPA Proprietary Red Wine 750ml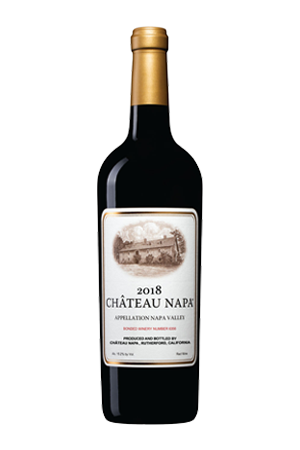 Enticing aromas of ripe red berry fruits beautifully accompany subtle background notes of chocolate and star anise In the 2018 CHÂTEAU NAPA.
On the palate, lush red cherries and vibrant blackberries dominate, leading to discrete layers of welcoming ripe citrus. The pleasing flavors and herbal notes are indulging and create a very dense and creamy mouthfeel.
Silky smooth, billowing tannins and a long satisfying finish are followed by a warm base tone of cinnamon and tobacco. A full-bodied Napa Valley red wine with a soft tannin structure, and perfectly balance acidity. CHÂTEAU NAPA is intended for enjoyment upon release to be shared amongst family and friends.
This limited production vintage was created from 100% Napa Valley Cabernet Sauvignon grapes. Enjoy by the glass, or as the perfect accompaniment to Mediterranean and classic American cuisine.
A Single Vineyard Wine. Exclusively produced and bottled at the Château. Rutherford, Napa Valley. Winemaker Aaron Pott.